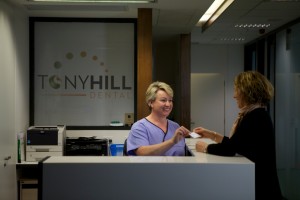 Tony Hill Dental is a warm and friendly dental practice, conveniently located in Bathurst St, in the Hobart CBD.
We provide the highest levels of care and service to all our patients. This is achieved by using the best quality materials and the latest techniques.
Our dental practice is not a large, corporate environment but provides a level of individual care and attention which our patients appreciate. The surgery itself is modern and fully equipped and the practice utilises technology such as digital x-ray, which provides superior imaging at low radiation dose for the patient. The practice is maintained spotlessly clean and sterilisation processes are maintained to the highest order.