Fillings, crowns and bridges for your teeth
White Fillings
We are constantly asked the same question, "When can I eat? Well, after placement, as long as you brought your own food and you share, you may chew right away. These fillings are instantly hardened by the light. Your teeth may experience some degree of temperature sensitivity for a few days to a week. If it does not disappear within that period of time, contact our surgery.
---
Crowns
Should you experience any discomfort you can take a mild analgesic (Paracetamol, Nurofen) as long as there are no medical contradictions based upon your medical history. Typically, you can take anything you would normally take for a headache. If the discomfort persists, please call our surgery.
Once the impression stage is completed, the dentist will place a temporary (transitional) crown (or bridge if multiple teeth were involved) on your tooth. These plastic (acrylic) restorations are placed on teeth to protect them and the gum tissues between dental visits. The temporary cementing medium used is designed to allow the easy removal of the temporary at your next scheduled visit.
There are a couple of additional facts you should know about regarding the care of your temporary crown:
Home care is extremely important while your temporary crown is in place. The health of your gum tissue and the success of your final treatment restoration depend upon it. PLEASE do not be afraid to clean your teeth between visits. With a minimal amount of home care, you should be able to maintain the continued health of your teeth and gum tissue during the time required to fabricate your new crown.

Sometimes, even with meticulous care, temporary crowns or bridges may become loose between visits. If this should occur contact us for advice
It is not unusual for the new crown to be mildly sensitive to cold temperatures for a few weeks. However, if the sensitivity is severe, does not subside, or if the bite feels uncomfortable, contact our surgery. Further adjustments to the crown may be necessary.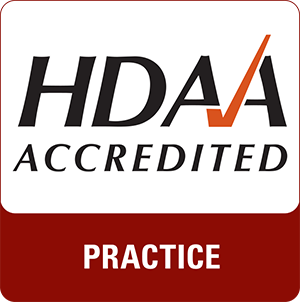 HDAA Accredited Dental Practice
Our HDAA accreditation demonstrates our compliance with quality, safety & good governance by committing to quality improvement, patient safety and care.
Find out more