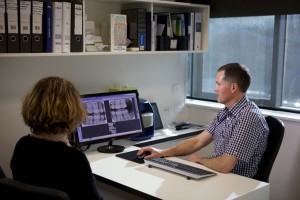 All patients are seen initially in an office area away from the dental chair. This allows confidential discussion of your concerns in a face to face environment. Often you will return to this office at the end of your appointment to view the results of your check up such as a required treatment, x rays, and clinical photographs. Dr Hill will take time to discuss treatment options, costs and answer any other question that you might have.
All new patients receive a comprehensive dental examination which includes all of the following
Overview of health status
Review of priorities, goals and desires
Review of previous dental treatment
Examination of teeth and gums
Overview of bite related issues
Oral cancer screening
Intra-oral X-rays
Cosmetic evaluation
Oral Hygiene Assessment and suggestions
Additional diagnostic procedures that may be advised include:
Impressions for study models
Extra Oral Radiography (OPG imaging)
Salivary gland function tests
Photographic records
These items may incur an additional fee. They are not always necessary and you would have to specifically agree to them before we proceed.
Currently extra oral radiographs (larger x ray films) will be arranged through a nearby radiologist. These are generally at no gap through Medicare
Contact us to make an appointment today. We look forward to caring for your dental health.
Download the New patient form.