Oral hygene care & maintenace for your teeth
What is a Dental Hygienist?
Dental Hygienists are specially trained members of the dental team who work together with your dentist to provide fully integrated dental care. They play an important role in dental health, preventing dental disease by providing individual oral hygiene care and instruction to patients.
What is the Hygienist's role in the Dental Practice?
Hygienists perform four main functions:
Teaching patients oral hygiene techniques on an individual basis. This one-on-one instruction includes care for your gums and teeth, and advice on a healthy diet to prevent dental disease.
Evaluation and assessment of your periodontal(gum) tissue, including x-ray discussion and review of medical history.
Scaling and polishing of teeth.
Application of decay prevention agents.
Why is home dental care so important?
Dental disease can be prevented. Good home plaque control techniques help to prevent gum disease and tooth decay. Such problems are then less likely to progress into more serious dental ailments requiring extensive and expensive dental treatment.
Preventative Dental Hygiene for Adults and Children
In the treatment of both adults and children the hygienist, together with the dentist, will examine the mouth and develop an individual course of treatment. Both adults and children can benefit from having their teeth cleaned and polished. They are taught how dental disease occurs and how it can be prevented. The hygienist cleans teeth by removing plaque,
calculus (tartar) and staining. The hygienist will also apply fluoride gels and solutions to help prevent decay as well as preventative sealants (fissure sealants) to the permanent back teeth if needed.
Is there any discomfort?
Usually dental hygiene is pain free. If you find treatment uncomfortable it is important that you discuss this with the hygienist. Various techniques are available to help.
Is it expensive?
Any preventative care will ultimately lead to savings. Depending on the type of
treatment carried out and the length of the appointment, costs may vary. It is important
to agree and confirm the cost of the visit before the hygienist begins treatment.
Why doesn't the Dentist do the work?
The hygienist has been specially trained in the cleaning and maintenance of the mouth, teeth and gums.
A dentist will refer a patient for more specialised oral care, while they provide complex restorative care.
With individually taught care techniques and regular maintenance your dental hygienist can assist you to maintain your teeth for the rest of your life.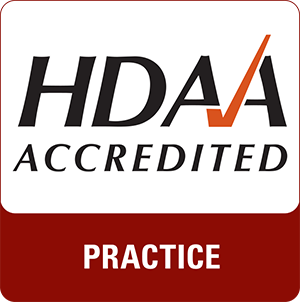 HDAA Accredited Dental Practice
Our HDAA accreditation demonstrates our compliance with quality, safety & good governance by committing to quality improvement, patient safety and care.
Find out more